5 questions to:
Ema Ema Ema
Artist from Belgrad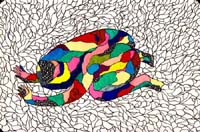 The Dis-patch Collective is an independent organization dedicated to the promotion of new music tendencies, related art practices and the advancement of the local music and art scene through creating links between Serbian artists and audiences and established artists from around the world. The collective brought five extraordinary Serbian visual authors to Berlin for a special show and a 3-week long residency at the Gallery Neurotitan in June 2012. Curated by Relja Bobić, the exhibition under the name EXIT THROUGH THE GLORY HOLE: Pervert's Guide to Belgrade's Graphic Underground, included the artists EmaEmaEma, Weedzor, FuckNewRave, Fat Kid Beny, and д.л.т.  We interviewed the artist EmaEmaEma while staying in our house.
How did you get to know Haus Schwarzenberg?
I didn´t know anything about Berlin, I didn´t know about this Gallery and about the organiser and the curator Relja Bobić. He said in Belgrade, hey guys, you must have an exhibition there. He showed only photos and that´s how I know about this place.
How would you describe Haus Schwarzenberg?
This my the first exibition here. The first time I came here I thought it was a squat house. I heard it was a squat house before and I like it because it is like an oasis in the center of the city, it is totally different from everything around, the shops and the fancy center.
What makes the venue "neurotitan Galerie" especially attractive to you?
I like this Space for exhibiting It´s not like a normal fancy gallery, when you come in it has an energy that is very good. I really like the people working here and they helped us a lot. It's a lot of fun here, it´s more free then in other galleries.
You can do whatever you want, you can do installations, you can paint on the wall. Many galleries don`t allow you to paint on the wall and I think it`s stupid. You should let an artist do whatever they want.
And I like these big windows!
How did you experience the cooperation with neurotitan?
Like I said, the people are very good . And up there we`ve got this very cool apartment, with the shower in the kitchen!
The people working here are all very nice and helpful, everything I ask for – I get.
Your Birthday wish to Haus Schwarzenberg:
My birthday wish for Neurotitan,
To grow more, to bring more artists, to exist always, to never stop working and just to be as it is now. And earn enough money to be here all the time and to bring more people.
All the best!