City Primeval: New York Berlin Prague –
Book Release Party @ Haus Schwarzenberg: November 30, 2017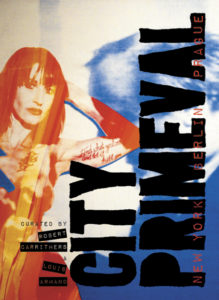 Places: Haus Schwarzenberg: Kino Central | Eschschloraque
Programme:
19:00-22:00 @ Kino Central: Book Release Event
Robert Carrithers, Louis Armand & contributors introduce the book with projected images, talks, and interact with the audience
Presentations from photographers and Berlin film makers about their work:
Miron Zownir | J. Jackie Baier | Ilse Ruppert | Timo Jacobs
Live-Act: Song "City Primeval" by Phil Shoenfelt and Marcia Schofield
22:00 @ Eschschloraque: Book Release Party – DJs, Performances, Live-Acts
DJs: Black Black God and Gina Dorio/Cobra Killer
Live Acts & Performances: Evelyn Frantti: Burlesque | Lady Gaby & Sean Derrick Cooper
Marquardt | Mona Mur performs new poems by Miron Zownir | Viviana Druga: Ritualistic Action
Royal Comfort (Oska Wald, Jimmy Trash & Big Daddy Mugglestone) | Phil Shoenfelt & Mark Steiner
The book City Primeval: New York Berlin Prague documents the zeitgeist of art and culture in NYC, Berlin, and Prague from the 1960s to nowadays. Key artists document life in each city and offer a unique glimpse into their exceptional universe. Including moments from the lives of Lydia Lunch, Iggy Pop, Jean Michel Basquiat, Penny Arcade, Mark Reeder, David Černý and many others who have shaped the spirit of the time. "City Primeval" was curated by New York photographer Robert Carrithers and writer/critical theorist Louis Armand.
City Primeval: New York Berlin Prague (Prague: Litteraria Pragensia; September 2017) is a constellation of personal documentaries of place and time by key contemporary writers, poets, musicians, designers, filmmakers, photographers, artists, and performers from within the New York, Berlin and Prague underground scenes from the 1960s until today;
from New York Post-Punk and No Wave, to the fall of the Berlin Wall. From the Berlin Reunification to the Velvet Revolution and the Prague Renaissance.
The book release events will bring the stories visually into life in all the cities of their
Creation – in Berlin on November 30, 2017 @ Haus Schwarzenberg, Rosenthaler Str. 39,
10178 Berlin!
Entrance 5€ – For pre sale please go to the cinema homepage: http://www.kino-central.de/